Archive for April, 2010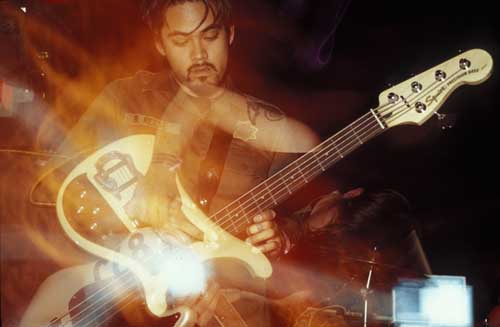 Thanks for all the lovely music, amazing shows, and your unique passion! FMTM has been quite a chapter in music history — what they've created is something that will continue to inspire and give energy long from now, just as their first album (2002) hasn't aged.
It's with a wide array of emotions that I must announce the end of the band From Monument To Masses. FMTM is not organized or cohesive enough at this time to issue a unified or consensual statement, so I'm speaking as an individual and not on behalf of the other band members or affiliated labels. After almost a decade of making music and working hard to bring that music to you, we're out of time. It has been educational to say the least. Our final tour will be Parabolicatune, a three-city tour of Japan at the end of April, 2010, and sergio robledo-maderazo will not be playing with FMTM on that tour. He ended his involvement with FMTM several months ago. After the Japan tour, it is possible that we will play a farewell show or two this Summer on our home fields of New York City and the Bay Area, California. That will be all.

There is too much to say here about our experience. We'll be blogging about it later, I'm sure. Suffice it to say, that I'm incredibly grateful for my time spent with FMTM and I wouldn't trade it for anything. From the responses we heard in talking to people about our music, I'm convinced that the music worked; it did it's job. It reached people on a different level than most music… and that's exactly why I committed myself to the band in the first place. I'm most sincerely grateful for every single person who enjoyed FMTM's music and came to see us play. I loved every minute of it – even the minutes that I hated. FMTM was a very frustrating band, mired in frustrating business relationships, frustrating personal relationships, and frustrating contradictions between what we wanted to be and what we were; where we wanted to go and where we were headed. Given these obstacles, FMTM fell prey to a sort of "band entropy" wherein everything that we tried to control slipped even further out of our control. Eventually, the net losses outweighed the net gains and no one was happy. That's when you know your band needs to break up, regardless of whether it breaks your heart or not.

It must be stated publicly that I regret any problems caused by our attempt at booking an EU tour in May, 2010. Our long-standing "partnership" with our booking agent went south as he pressured us to work exclusively with him and, once we had, he then proceeded to pawn us off to his incompetent sub-agents. The result was a lot of wasted energy and disappointment for no good reason whatsoever. It wasn't the first time it had happened either — we had struggled through yanked dates for years, routinely unable to coordinate opportunities with the help and resources necessary to make them happen. The lesson learned here is perhaps to always work with independent booking agents and PR firms who have a genuine interest in seeing your band succeed – and not with corporate hacks whose interest in you only goes as far as the short-term commission your band can earn them, or who do the bare minimum that their retainer requires of them. Conversely, I must also say that Jerkov Booking in France worked very hard for us and confirmed a great set of dates, but since the rest of our EU dates never materialized, we had to cancel that as well…and we regret putting Jerkov in that terrible position. Divorce is hard on the whole family.

There are many people who believed in FMTM and who went above and beyond the call to help us succeed, and who never dangled any false carrots in front of us. Their talents and friendship do not go unappreciated. I will miss working with Kensuke Saito at Catune Records in Tokyo, Japan, Timo Siems at Golden Antenna Records in Braunschweig, DE, Lars Lewerenz at Audiolith Records in Hamburg, DE, Tom Dorsey at Nice Promo in Portland, OR, Jonathan Burkett who not only assisted us with graphic design but also drove us on a US tour, Eric Kuhn of Silian Rail who has filled in on several instruments for us, Matthias Werner at High-Low Agency, Florian Detlefsen at Trapdoor Tourz, all the engineers who helped capture our music; Tim Green, Matt Bayles, Ben Adrian, Tom DiMuzio, and Ed Brooks, among others, Eric Milhouse and everyone at the Glass House in Pasadena, Ramona Downey at Bottom of The Hill, and too many other artists, bands, and community organizers to name here. Members of FMTM will write in more detail about the characters in our history in our journals/blogs.

We don't know at this point what will become of our albums, although it's clear that they'll remain available digitally for a long time to come. Whether Dim Mak will ever repress our out-of-print albums (the first two) is anyone's guess. FMTM still administrates its own publishing and we will continue to make our music available for that purpose. I imagine the merch store, which is operated by the members of FMTM, will stay open yet for a while and I encourage listeners to use it. Thank you for listening. "Silence is argument carried out by other means."

Sincerely,
Matthew W. Solberg, guitarist/co-founder of From Monument To Masses.
Sunday, March 28, 2010
Comments Off

on Oh bollocks… From Monument To Masses is no more
Out now on African Tape:
And on the Richter Collective:
Dont miss this stuff! It's gooooooooooooood!
Comments Off

on New music to listen to!