Posts Tagged 'gods & queens'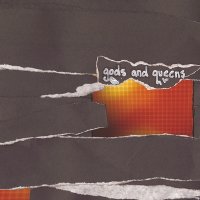 Trying to catch up with recent releases, here's another important one from 2008: If a band says they're inspired by June of 44, Unwound, Rodan and Hoover, they're automatically qualified for a review here. It's not that I personally think they sound a lot like any of them, but there's the noise-ridden, super-loud production that makes them sound 90s, and it's so authentic that I have a hard time imagining it's new. And we'll value any effort in this regard.
Gods & Queens do their own thing. Everything is Untitled with this band, and that kind of emphasizes how their songs are a little hazy and anonymous when played alongside each other. Normally music will make your feelings surface through dynamics – loud vs. quiet, fast vs. slow, noisy vs. clear etc. But Gods & Queens are a bit simpler, mainly just sticking to loud and noisy. What you'll be looking for is the slow progressions and the melody changes buried deep within the noise. It might make the album hard to enjoy at first, but as you spin it further and get to know them, it gets easier to tell what they're doing. This might sound like a failure, but make no mistake that this album couldn't have been done much better with regards to shoegazed frustration and fear. Track 4 is probably the most accessible track due to its gentle beginning, building upon the same jam throughout its duration, but gradually increasing in loudness. The closing track of the album has the same formula as the other tracks, but extends to almost ten minutes, and this is in my opinion where they have the strongest impact, although it's better to judge this album as a unity.
Gods & Queens might be near your favorite venue in Europe in April, so be sure to catch them.
Gods & Queens - Untitled
Robotic Empire / Adagio 830, October 2008
Comments Off

on Gods & Queens – Untitled
We did a bid of clicking around to see what to look ahead for in 2009:
Tortoise is releasing a new album! Title and date is still TBA.
Maserati has a new split coming up in February with Zombi. Track preview on myspace sounds amazing… Holy Fuck meets From Monument To Masses or something. 30 minutes long and available in 1000 copies on Temporary Residence.
Jesus Lizard reunites and joins ATP vs. The Fans. At approximately the same time as the festival, Touch & Go will re-release Head, Goat, Liar, and Down.
The Redneck Manifesto should be in the studio around these days, previously saying that they're very excited about what they've written.. so am I… before even hearing it.
Belgian band Frank Shinobi is working on a self-released album for late 2009. 3 tracks from their previous live set will be included and supposedly 7 new.
Another Belgian band, Hitch, pretty experienced guys, are releasing Clair Obscur on January 26th and posted 3 new tracks.
Quatre Tete are releasing Art of The State on Sickroom on January 13th.
Fordamage are releasing in March and subsequently touring UK, NL, BE and FR.
Future of the Left – Last Night I Saved Her From Vampires is out on January 26.
Robotic Empire's Gods & Queens are touring Europe extensively and will probably be in a town near you. They namedropped some of my personal favorites (Rodan, June of 44, Unwound, Lungfish) so I'm definitely checking them out ASAP.
The new Mono is coming out on March 24
Austrian instrumental outfit Valina has been signed by Joyful Noise and will release a-tempo in spring. Btw. pickup their 2009 free sampler.
Alarma Man is waiting for the mastering of their album to be called "Love Forever". Guitarist Calle Fredrikson gave us some words on it, being a bit disappointed that masterings seem to take forever these days.


The new album sounds, like the way it was created, loose. Comparing to the previous it's soft. It is easy to follow along in the songs and you will not get lost in it if you don't want to. Bass and drums is easy. Guitars is a bit more sofisticated but still not hard to get. Vocals are nice, clean and not irritating at all. The lyrics are deep, I guess. I should probably mention that those comments about how the record sound will only make sense to people familiar with our previous work, others will find them overexaggerated.

First time I heard the record, all of it, I got a very strong feeling for it. It sounded very dark. I felt proud and a bit sad at the same time. I was very exited about it for weeks. After that, I decided to not listen to it before the master is cut.

Earlier the long-forgotten year of 2008 they posted a preview of what's to come.
Comments Off

on Coming up in 2009