Posts Tagged 'native'
Or well, almost… August 20 is the release date. Thanks Native!!
Comments Off

on It's here!!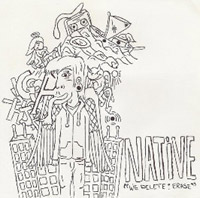 Nothing like a fresh, young sound. Nothing beats the fact that we're young and can be so for as long as we want to.. just play the right records, and you'll still be having babies at 80. Play the right music, and you'll be recording a two great EPs and touring almost nonstop within the first year of your band life.
Second one was just re-released as CD and LP on Sargent House – probably because it's so great. Take label-mates Maps and Atlases, lump in some Foals, a greater portion of something else (let's not try too hard to define them) and you have Native. They play with an equal amount of young skill and an elderly patience for building songs into longer instrumental dramas, and though their yelling lyrics can seem like play at times, there's also a pure energetic, passionate statement in there. I like Marvins Revolt and their democratic solution to figuring out the singer. Let's all yell in harmony.. and play brilliant music at the same time. My only dissatisfaction about Native, I guess, must be the single yelling sessions. If you wanna compensate for not being loud enough for screamo you've gotta have at least 3 guys yelling.
Native - We Delete; Erase
Sargent House, November 2008
Comments Off

on Native – We Delete; Erase [EP]