Posts Tagged 'cinemechanica'
Comments Off

on News update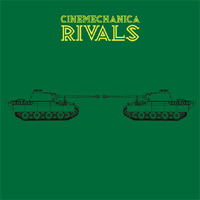 Let's kick off our reviews section with a petit apéritif. After extensively touring Europe with their debut The Martial Arts you might have heard of them. And a brilliant debut one might add. The follow-up is exactly what you'd expect from a band that seems to know its own sound and capabilities both live and on record: Now they seek to go a bit further, adding another drumset and changing into a more instrumental outfit on 3 lovely new tracks.
On the opener Hero/Protagonist you'll recognize their sound: A feel for the balance between atmosphere and harvesting math-points on skill and creativity. Adding lyrics on the second track Rivals, they seem to be stating the obvious: Are you disconnecting me? (…) It hurts. Nothing wrong with a bit of lyrics, as long as they don't get in the way of the rich instrumentation. Closing the EP is the 6:38 long Kurosawa which takes them to their peak. Live and on Martial Arts I was especially fond of the over 10 minutes long combination of Take me to the hospial and Get out of here Hitler, and this is exactly what I find on the last track, swirving from burst to burst, pause to pause. Not bad, not bad at all.
You can tell good music from the audio playback it requires, and Rivals truly unfolds in your headphones. This is where the drumkits come alive and you really feel that stereo wasn't invented for pure bling. If this was an experiment to see what happens with another drumkit, they had me fooled.. sounds absolutely natural. Damned to miss their double-drumkit tour.
Cinemechanica - Rivals [EP]
Hello Sir, October 2008
Comments Off

on Cinemechanica – Rivals [EP]