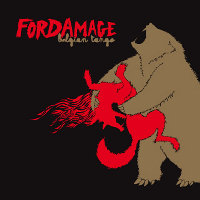 We're eager listeners of anything coming out of Nantes. A common denominator could be something like technical rock wrapped in clean and tight sound, typically mentioning Shellac, Fugazi and The Ex… and quite successfully carrying the sound from back then, and then a bit further.
Fordamage packs lots of interesting elements, ranging just as wide as Shellac does – playfulness mixed with seriousness. As a result, it's hard to get bored, but instead you're strapped in for the full 32 minutes. Guitars are loud, but there's a quiet moment lurking behind every outburst and vice versa. Tight, dynamic etc etc. it seems like Fordamage has been listening to a lot of variety, because you can almost hear jazz and balkan in some passages, everything of course trademarked with a sound that doesn't make the effort blurry – It's focused, and that's probably a result taking more time to write, which really bears fruit for a band in this scene.
So be sure to give it a shot and hang around at their shows in UK, France, Belgium and Netherlands.
Fordamage - Belgian Tango
Kythibong, January 2009