Posts Tagged 'golden antenna'
Need a reason to upgrade your hifi? Here's one. And here's a video with a different tune… they didn't give it a title… so let's call it This Band Is Cool, And Btw. Criminals Can Sometimes Be Victims And It Certainly Helps To Have A Pro Mugshots Stylist. Kerretta (New Zealand) sounds promising, they're releasing on May 28th on Golden Antenna. I hope they'll stick to the stuff from the aforementioned mp3, and maybe skip the Raised Fist-like parts.. it's confusing.
Comments Off

on Post-rock with an MTV video from the 90s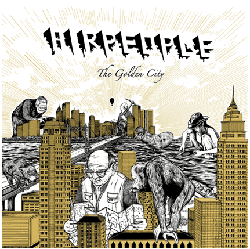 Hey you! Get you speakers out! It's time for some Airpeople! And it's time for me to admit that 9/10 bands on this blog have no singers… jolly brilliant, if you ask me.
The Golden City is their debut and a soothing collection of 9 varied instrumental rock tracks. What I think Airpeople does well (besides from reminding me of FMTM) is their catchy surface combined with a post-rockish layering of guitars… without degrading themselves to the daunting, cliché post-rock buildups, that is. Instead, most of the tracks are kept on the lighter, refreshing and positive side – like sharing the energy and dynamics of team spirit and combined, creative minds. Or as Flo from the band says:
When we started with Airpeople we had a rough idea of the creative process, not so much of the way it should sound. A focus or the idea behind Airpeople is to experiment with all kinds of styles and to create music thats exciting for us to play. We've known each other for a long time before Airpeople, love to play music and trying new things keeps it interesting and fun. There are so many things you can try and we like to take our time for that. So far we never had a clear picture of the song before we started working on something new. Sometimes there is a vague idea for the atmosphere, everybody plays what he likes and then we see how the pieces can become a song. In the end the song can be very different from the original idea.
Visit their site and have a listen to the first track of the album. And no, the oil drums aren't real.
Airpeople - The Golden City
Golden Antenna, September 2009
Comments Off

on Airpeople – The Golden City