Posts Tagged 'the littlest viking'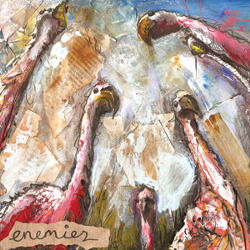 On April 10th My Heart To Joy will be releasing "Seasons in Verse" LP. The style is very 90s, with similarities in most genres. I highly recommend checking it out.
The Littlest Viking released a debut loaded with happy instrumental math.. beautiful melodic work, I kid you not: This is a true winner! Close to Fago.Sepia, Sleeping People, Antartica, Souvaris, Sincabeza etc..
And finally! Enemies from Ireland put up a new song on myspace and are releasing a 7″ on The Richter Collective. Their debut EP from last year was amazing, kind of like everything else on this label. So let's just go over, what they have for us soon:
Enemies – Untitled Vinyl (April 2009)
Ebu Gogo – "Worlds" (April 2009)
Bats – Untitled Album (2009) (editors note: WUHUUUU!!!!)
Kidd Blunt – "The Flood" (2009)
The continuous battle of Order – Untitled Album (2009)
Comments Off

on Good news everyone